WALMART ETSY EBAY STORE MANAGEMENT
Expanding into new global markets is a complex undertaking. When building an e-commerce strategy, brands must consider everything from marketing and fulfillment to payments and compliance. It's critical to build a go-to-market plan that focuses on the customer experience and includes strong back-end operations.

We're committed to assisting and leading you to global success as you begin on this adventure. With our EStoreBoost Team as your guide, you and your store will be on your way to creating seamless, localized experiences for your customers, wherever they are in the world.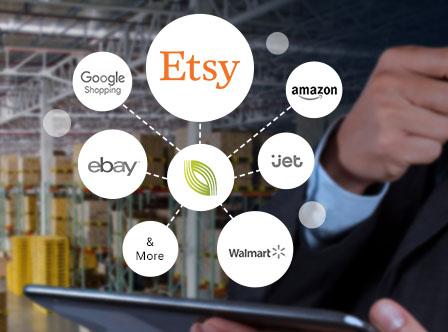 We ensure that your business will perform even if the seller platform is packed with comparable product listings, and highly competitive. We've compiled the best practices for selling on various online marketplaces, so we can easily set up, manage, and handle your store and goods.
Each online marketplace management approach is tailored to your company's specific requirements. The ultimate goal is to attract more customers, sell more products, and maintain the webstore structured in order to address any sales-related challenges.
Walmart Store Management
Walmart's online marketplace has grown to become the fastest-growing online marketplace, with thousands of sellers and counting. Walmart Marketplace is a successful sales platform for both major and small vendors in the United States, with numerous of categories ranging from kitchenwares to pet supplies and much more.
It's no wonder that Walmart.com is a go-to shopping destination for many people, given Walmart's global recognition and seemingly limitless product categories while more than 120 million unique people visit the site each month.
You won't have to wait days for an automatic response from our Walmart specialists since we're genuine people that care about helping brands like yours. As a Walmart Consultant team, we have some of the quickest response times. Furthermore, we complete all of our work in the United States. We're experts in listing creation and optimization, as well as advertising optimization and strategic advice.
Etsy Store Management
People looking for one-of-a-kind things can find them on ETSY, which links consumers with independent vendors from all over the world. On ETSY, each item is listed and sold by a seller that makes handmade products, craft supply goods, or anything else fit for. There isn't an ETSY warehouse like Amazon. You directly support independent sellers who run their own orders and inventory when you shop on ETSY. EStore Boost Team will assist you in becoming an independent ETSY vendor.
When you hire E-Store Boost Consulting Team to set up and maintain your ETSY shop, you get a comprehensive set of deliverables that will help you achieve maximum success on the platform. This can boost your sales and earnings while also improving your online presence in ETSY search results.
If you're new to ETSY, our specialists will analyze your products for your shop while we improve your listings by writing captivating product descriptions and organizing them accurately into categories and subcategories.
Also before we create or improve your shop, our specialized EStoreBoost ETSY Account Management Specialist does in-depth research into your competition on ETSY. We look at their products and marketing to come up with an analysis and implementation strategy that will make you their most competitive seller.
eBay Store Management
In the United States, eBay is the second-biggest third-party marketplace, while Amazon is the largest. There are 170 million active purchasers all around the world. The platform has a high-volume, high-quality source of potential customers' traffic.
Our EStoreBoost eBay Account Management service is here to help you take your eBay store to the next level by increasing visibility, sales, and return on investment. Our eBay experts understand how to use the eBay marketplace to boost your brand's visibility. Our experienced management staff will work through the optimization and automation for eBay, whether you have a vast product inventory or are new to the e-commerce sector.
We guarantee that your product pages will be upgraded with professionally created product description pages. These multimedia-rich content pages boost your brand and highlight product features while also promoting your products. To enhance product views and exposure in search results, our eBay listing service team improves product titles and descriptions.
It's never easy to sell on an eCommerce platform, and eBay is no exception. To market and sell your products more efficiently than your competitors, you'll need a lot of experience and knowledge. Let us handle your e-commerce business while you focus on other activities, safe in the knowledge that your store is in good hands at all times.
Sign up now start receiving our newsletter right away.